András Incze
CEO & Founder
CEO & Founder of Akceso Advisors
András has led numerous successful engagements with large and smaller clients since having founded Akceso Advisors in early 2011. A former Market Pricing Director & Head Global Pricing Analysis with pharma leader Novartis, he managed pricing & reimbursement for 100 markets for the full pharma portfolio, launching successfully 15 general medicine, specialist and orphan compounds. Had global responsibility for modeling and optimisation for price, reimbursement and market access. He has been working with payers and authorities, helping shape national healthcare landscape in Argentina, Egypt, Poland & Saudi Arabia. He designed patient access programs a.o. in Asia, securing lifesaving treatment for those unable to afford it, while ensuring commercial price maintenance.

András has experience with original, generics and biosimilar products including lifecycle transitions. Prior global roles included Head Sales & Marketing Productivity and Head Capital Management. András has over 20 years experience in country, region & global roles. He is an IMD MBA, and has an MSc and Doctorate (PhD) from BME Budapest. Attended executive programs at Harvard, Stanford, IMD and INSEAD. András is co-author of 2 books on health economics and pricing, developed 4 case studies with Harvard and is an invited speaker at conferences and the IMD business school. András lives in Basel, Switzerland.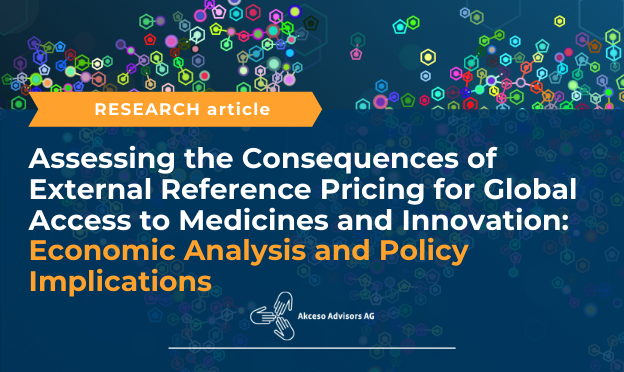 This 5 years of research explores how external reference pricing (ERP, or also called as IRP – International Reference Pricing) is used to set pharmaceutical prices to improve affordability, but how its application may have negative consequences on patient access across certain countries.
The US Government just published its "Comprehensive Plan for Addressing High Drug Prices". It lists a number of initiatives and ideas, but does NOT mention is International Reference Pricing – and this is good news for patients in the US and worldwide (and for manufacturers, too). – Read the Akceso Advisors reflection on a latest development in the US pharmaceuticals market based on Akceso Advisors' research related to the impact of International Reference Pricing (IRP) on patient access and innovation.
Read more about András in our Blog
What the three-part evidence-gathering method includes and how it helps to achieve both patient- & public health benefit and long-term economic success.